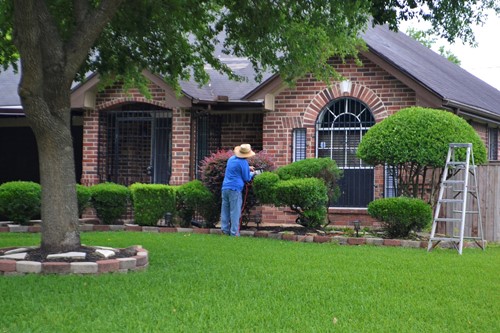 If you're trying to improve your home's curb appeal, landscaping is usually the best place to start. Even with tiny outdoor spaces, there are some simple improvements that will make a big difference. Here are some simple DIY landscaping tips for curb appeal:
Refresh or Add Mulch
Mulch might seem like something only needed in elaborate gardens, but it can make a big aesthetic difference in smaller spaces too. If you have plants in a garden bed of any kind, whether it's right up against the house or elsewhere in the yard, try adding a layer of mulch. Mulching has many practical benefits like helping the soil keep its moisture and protecting against pests, but it also creates a clean and professional presence.
If you already use mulch, now's the time to refresh it. Replacing and adding fresh mulch is an ongoing gardening task that can keep your plants and soil healthy and your yard pristine. The rich color will also give your plants a solid backdrop to stand out and add color and vibrancy to the yard.
Trim Trees and Shrubs
If you have trees or shrubs in your yard, give them a trim. Even if you have miniature trees, pruning some branches to reduce the size and improve the shape will have an immediate impact on the whole yard. Also, it helps you ensure potential buyers are observing your beautiful house instead of tree branches.
If you have shrubs, prune and trim them so that they don't spill out into walkways or cause potential tripping hazards. If you have flowering shrubs, clean up any wilted blooms to keep the plant fresh. No matter what time of year you are presenting your home, trimming your trees and shrubs can improve curb appeal by keeping your home's face tidy and unobtrusive.
Clean Up Pathways and Edges
Even if you have a tiny yard, you probably have some sort of path or walkway to your front door. Cleaning the surface of stone, brick or concrete pathways with a power washer will instantly make the entire yard look new. If you have trouble with weeds growing in between stones or pavers, apply a small amount of weed-killing solution to the edges to prevent them from popping back up. Just do so sparingly and to be aware of any toxins that might be harmful to pets or children.
As for the edges, cleaning up the sides of the pathways will increase your curb appeal in minutes. If you have a grass lawn, use an edging tool to define clean lines for a professionally landscaped presence. Don't forget to sweep or blow away the cuttings when you're finished so that your clean walkway isn't covered in grass!
These are some of the easiest and quickest DIY landscaping projects to increase your curb appeal. They are also extremely helpful in ongoing maintenance of a beautiful yard. Whether you're selling your home or just want to improve the appeal for yourself, starting with the landscaping basics is the best way to go.